Children's Dentistry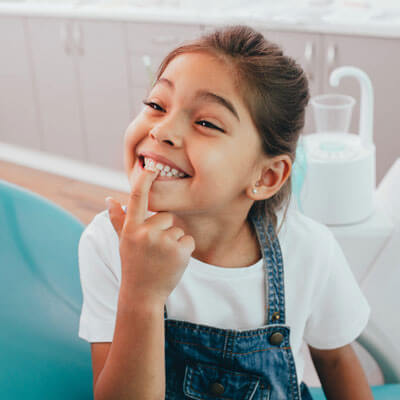 At Blacktown Dental Group, we love seeing all patients achieve a healthier, happier smile. For our youngest patients, it's most important they have the right oral health care from an early age, to ensure they grow and maintain healthy teeth and gums.
We are passionate about giving children a fun experience in our practice. We keep it simple and enjoyable, so they can feel comfortable and relaxed during their appointment.
Our Children's Dental Services
Just like adults, children require similar dental care to keep their teeth and gums in a healthy condition. Some of our children's dental services include:
Dental checkups: Our friendly dentist will look inside the mouth and ask your child to help them by counting their teeth. It's an interactive checkup to keep your child engaged and comfortable in our practice.
We will assess the teeth and gum health and ensure everything is looking how it should. If we have any areas of concern, we will address these with you and provide a solution at your appointment. We may also complete X-rays (if applicable) at the checkup appointment.
Gentle cleaning: Just like an adult clean, we perform cleanings for children, too! Our dentist is extra gentle and will lightly clean and polish the teeth, as well as remove any plaque or buildup.
Fissure sealants: If we find a damaged tooth that may be at risk of developing a cavity, we can provide a fissure sealant that seals over the tooth and protects it from further damage. The fissure sealant is made out of non-toxic, white filling material and can be completed at your single appointment.
Fillings: We offer safe, white fillings for children who have cavities. Getting a filling is painless and can be completed in one visit. If your child requires multiple fillings, this can also be taken care of at your appointment.
Mouthguards: Does your child play contact sports? It's important to protect their teeth with a dental-grade mouthguard. Our custom mouthguards are unique to your smile and fit snug on your teeth. They are much higher quality than one-size-fits-all mouthguards that you can buy at the pharmacy.
Wisdom teeth: If your child is experiencing wisdom tooth pain and the teeth are causing damage to surrounding teeth, you may need to book an appointment with us. Our dentist will take X-rays and ensure the wisdom teeth are developing as they should. If for any reason they are causing damage to the surrounding teeth, you may require an extraction.
The Child Dental Benefits Schedule
One of our greatest passions is ensuring that all children have access to our high-quality dental care so they can enjoy bright and healthy smiles.
That's why we are happy to accept patients on Medicare Australia's Child Dental Benefits Schedule (CDBS). The CDBS is for eligible children ages 2-17. The benefit entitles kids to have access to $1000 (every two years) for basic dental services.
Your child may be eligible if they have a Medicare card and you receive Family Tax Benefit Part A or certain government payments.
Please refer to the Australian Government website for more information.
Book Your Children's Dental Appointment
If your child is due for an appointment, give our friendly team a call today. We offer a range of children's dentistry services and love to give kids a fun experience in our practice. You can be a part of the experience every step of the way!
* Any surgical or invasive procedure carries risks. Before proceeding, you should seek a second opinion from an appropriately qualified health practitioner.

Children's Dentistry in Blacktown NSW | (02) 9676 7590