Cosmetic Dentistry Blacktown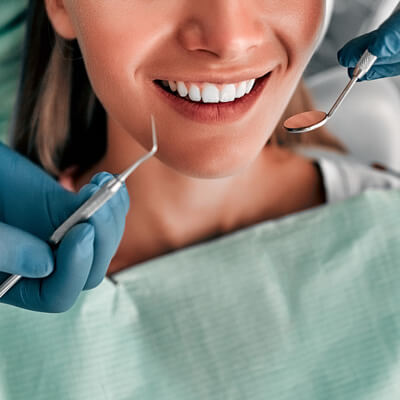 Are you happy with the way your smile appears? If you'd like to make a change, the team at Blacktown Dental Group can help you. You can transform your teeth to improve the way they look and feel. You can select any of our services as a stand-alone treatment or combine different options into a custom smile makeover. Our team of dental professionals will work one-on-one with you to make sure that you love your results from your treatment.
Your Personalised Cosmetic Dentistry Experience
Each cosmetic dentistry procedure or smile makeover we complete is tailored to the unique needs, aesthetic concerns and oral health status of our patients. In most cases, we will combine a variety of cosmetic dental treatments to address problems like
Crooked teeth
Crowded teeth
Tooth discolouration and deep stains
Uneven or misshapen enamel
Gaps in your smile
Missing teeth
Gummy smiles
While we're enhancing the outward appearance of the tooth, your smile makeover will also take things into consideration related to the health of your teeth and gums. We want your smile to be just as healthy as it is beautiful!
Treatments Used During Smile Makeovers
Due to the unique nature of smile makeovers, we typically combine numerous types of restorative and cosmetic procedures to achieve the best overall results.
Ceramic Crowns: Repair broken or heavily decayed teeth. Ceramic crowns are also placed on top of dental implants to fill in spaces left by missing or extracted teeth. Each one is custom-matched and shaped to blend in with your smile. Nobody will be able to tell that you have a crown on your tooth.
White Fillings: These can be used to treat cavities or replace unsightly metal fillings that detract from your appearance. They address areas of decay or damage to your teeth. Since they're tooth-coloured, they'll blend in with the rest of your smile and won't stand out as older, silver fillings do.
Porcelain Veneers: Porcelain veneers look similar to a fake fingernail. These coverings mask the healthy teeth behind them, making your smile look whiter and straighter in less time. You'll love the way your teeth look after your treatment.
Professional Teeth Whitening: You can safely lighten the colour of your natural enamel with our whitening procedures. Teeth whitening is a perfect smile makeover on its own, though it can also be combined with other services to achieve your goals.
Gum Recontouring: This procedure adjusts the margins of your gumlines for a fuller and healthier-looking smile. Your gums and teeth will have the perfect proportions to each other.
FAQ
Are there any side effects associated with teeth whitening?
To minimise any chance of experiencing side effects, we take specific measures. These include using a protective gel or rubber shield to prevent bleaching agents from harming delicate gum tissue. The most common bleaching agents used by dentists are approved for use by the Australian Dental Association. Therefore, you can be confident knowing they are highly safe and effective. After the whitening procedure, you may have some mild tooth sensitivity, but it won't last long.
What causes teeth to discolour?
Tooth discolouration often occurs as part of aging. As people age, enamel wears down, and teeth tend to appear dull. Smoking and drinking coffee and tea also can cause teeth to appear tarnished or darkened.
Other causes of tooth discolouration include side effects of medications, a person's genetic makeup and too much fluoride use. Teeth whitening and veneers offer an aesthetic solution for those who have discoloured or dull-looking teeth.
How long does each cosmetic treatment take?
Just as every smile we treat is unique, so are the treatments we provide. While cosmetic treatment times can differ, some cosmetic treatments such as teeth whitening can be completed in a single office visit.
Payment Information
We want everyone to have access to high-quality dentistry. All health funds are accepted at our practice. We're pleased to let you know that your children can use the Child Dental Benefits Schedule. We also accept Department of Veterans' Affairs coverage. With our HICAPS machine, your rebate can be claimed on the spot.
If you do not have dental cover, we work with zipMoney so that you can have an interest-free payment plan. We'll give you the information you need to get started.
Schedule Your Consultation Today
Are you interested in making a change to your smile? We have an option for everyone and every budget. Contact us today to learn more about your options within cosmetic dentistry Blacktown!
CONTACT US
* Any surgical or invasive procedure carries risks. Before proceeding, you should seek a second opinion from an appropriately qualified health practitioner.

Cosmetic Dentist in Blacktown NSW | (02) 9676 7590